Tony Machi has been an award-winning writer/producer/director of film and videotape productions for over forty years. He is the owner and vice-president of Machi & Machi Communications, Inc. in Rochester, New York.

Machi was born in Pittsburgh, Pennsylvania. He attended public and parochial schools in the Pittsburgh area and in 1970 received a Bachelor of Science degree in Art Education from Edinboro University. While attending Edinboro, Machi founded the Art Student's League, a non-profit, self-governing student organization for the purpose of furthering the understanding of media among students and faculty.
PHOTOGRAPHY BY MATTHEW MACHI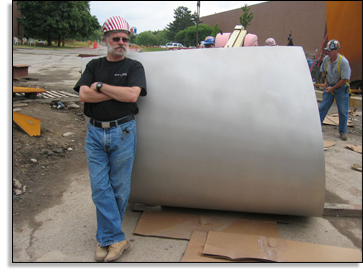 While at Edinboro, he also became a ceramic artist and was accepted as a member of the Pittsburgh Craftsman's Guild. Between 1969 and 1972, Machi wrote, produced and performed experimental theatrical productions known as Performances. With a number of Edinboro colleagues, he staged his avant-garde Performances and workshops for university audiences throughout the eastern United States. In 1970, he was invited to study with the National Center for Experiments in Television in San Francisco, California.

Machi began his career in broadcasting in 1970 when he was hired as a television producer by WQLN Public Broadcasting of Northwest PA, in Erie. He was employed by WQLN until 1979, producing and directing many programs and series in the areas of the arts and public affairs. Before leaving WQLN, he assisted in the development of economist Milton Friedman's PBS series Free To Choose and produced a 15-part Friedman lecture series for publisher Harcourt, Brace, Jovanovich. He also co-produced and directed one of the first national television series on economics Economically Speaking. While in Erie, Machi also taught art to inner-city elementary school children and courses on film and mass media at the undergraduate level.

He moved from Erie to Rochester, New York in 1979 to assume a Staff Producer position with Xerox Corporation. While at Xerox, he produced the company's 1980 kickoff film, which earned him a CINE Golden Eagle. In 1981 he resigned from Xerox for the opportunity to produce and direct the PBS documentary film Star Spangled Spenders, a probing look at mismanagement and deficit spending by the federal government, based on the book Fat City: How Washington Wastes Your Taxes by Donald Lambro. He formed Machi & Machi Communications, Inc. with his wife Kathleen the next year. Since then he has divided his time among broadcast documentaries, series, field pieces for numerous cable and news networks, commercials, industrial productions and educational videos for many non-profit organizations.

Since 1981, Machi has produced over twenty projects for PBS. Among his many credits are: Eugene Iverd and the Golden Age of Illustration (1982), a docudrama featuring Edinboro art professor James Vredevoogd as 1930s artist and illustrator Iverd; The Three-Letter Word Tax (1983), with host Louis Rukeyser; Money and Medicine (1983), also hosted by Rukeyser; Good Intentions (1983), a documentary on how government policy for African-Americans often does more harm than good, hosted by economist Walter E. Williams; Born for the U.S.A. (1984), a profile of modern-day immigrants, hosted by George Gilder; Be It Remembered (1985), an historical look at immigration hosted by Eli Wallach; Fins, Feathers and Fur (1985), a 15-part series on creative writing for second graders; The American Presidency: A Study in Leadership and Power (1986); On Shifting Sands (1986), a nature versus progress story narrated by Eli Wallach; Manchild Revisited: A Commentary by Claude Brown (1986), a retrospective look at crime among African-American youth by author Brown whose original Manchild in the Promised Land presented a searing portrait of urban ghetto life; The East-West Roundtable Debate: Resolved That America Should Quit NATO (1986), hosted by Morton Kondracke; On Trial: Robert H. Bork (1987), a formal debate on the nomination of Judge Bork to the Supreme Court, also hosted by Kondracke; Made In America: Albert Paley and Wendell Castle (1987), a documentary about art in the making and the business behind it; We Have Met The Enemy: The Dobbins Memoir (1989), a docudrama about Daniel Dobbins, one of the most pivotal yet little-known figures of the War of 1812; Playing To Win (1989), a behind-the-scenes look at an international piano competition, the D'Angelo; Quality of Mercy: Saving America's Street Kids (1990), with an introduction by Dan Rather; Like Anybody Else (1992), about children and adults with learning disabilities, narrated by Meredith Vieira, Health Care Reform (1993), a 10-part series for the Rhode Island Public Television Network; Damn Right (1995) a public affairs pilot for the TCI Network, hosted by David Asman of the Wall Street Journal; Albert Paley: Man of Steel (1999), a documentary biography of the internationally famed metal sculptor; co-producer on George Eastman: An American Snapshot (2001), for the A&E Biography series; America's Treasures (2002), a pilot for a series on America's many unique museums and Albert Paley: In Search of the Sentinel (2006), about Paley's many large scale, site-specific public sculptures, narrated by Jane Alexander. Currently, he is developing documentary autobiographies on Wendell Castle, the father of the art furniture movement and Walter E. Williams, author, economist and distinguished Professor of Economics.

In 1995, he became a partner of Wildwood Creative Enterprises with whom he published in October 1996, I Wish I Could Fly Like A Bird! a children's storybook based on the character, Chic L. Dee. Machi created Chic as an 11-year-old black-capped chickadee who, because of his learning disabilities, doesn't fly. In 1997, I Wish I Could Fly Like A Bird! won a Proud Projects Award from the Learning Disabilities Association of America.

Machi's films and documentaries have won three CINE Golden Eagles, a NY Emmy and awards from the Columbus (Ohio), Chicago, New York and Atlanta Film Festivals. He has also won many Telly, Communicator, Aurora and Axiem Awards for his broadcast and non-broadcast programs. He is a recipient of a 1991 Edinboro University, Lifetime Art Achievement Award, a Lifetime Achievement Award from the Mary Cariola Children's Center in 2000 and is listed in Who's Who in Entertainment. Outside of his career, his major interests are a life-long study of mass media and the arts and touring with his family on their Harley-Davidson motorcycles.